Gift Idea: Love With Food Subscription Box
This post contains affiliate links for which I receive small compensation if you purchase through my link.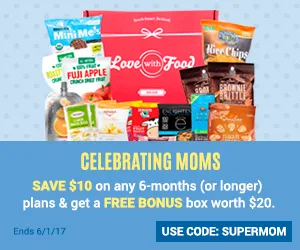 Gifting season is just around the corner!
Are you in need of some ideas? I'm such a huge fan of subscription boxes and especially food based ones. I wanted to recommend for you foodies out there looking for gifts (or want to HINT at a gift you want) that you should try out "Love With Food."
Best of all they even have a gluten free option! So they offer a lot of different plan options, and I highly recommend you go check them out. They have a tasting box and a deluxe box. Their gluten-free box has a starting price of $24.99 with a month to month plan and $68.97 for a 3 month subscription plan.
They have a GREAT Cyber Monday deal going on right now as well! That if you purchase a 6 month or longer plan, you get a $10 Gift Card.
Purchase now!