Win a Gazelle Certified pre-owned iPhone or iPad [Ends 7/15]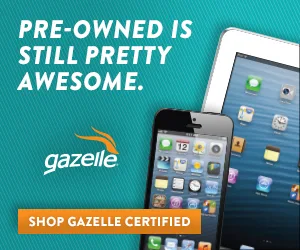 **This post contains affiliate links and I will be compensated if you make a purchase after clicking on my links.

Okay, am I the only one here who uses a cracked iPhone? I actually have for a couple of years now for two reasons 1) I can't afford a new one and 2) I don't want to be in a contract to get a new one. But it isn't a good idea to use that kind of screen, and it actually is better to get a new phone. Do you use a cracked phone?
If you do, this giveaway is PERFECT for you. As a part of Gazelle's Stop the Spread of #unprotectedtext campaign,Gazelle is giving you the opportunity to bare your soul on their Facebook page!

In 50 words or less, share your story about how you broke your phone and why you continued to use it. Be sure to use hashtag #unprotectedtext and @Gazelle in your social post.

When you post, you'll be automatically entered to win a Gazelle Certified pre-owned iPhone or iPad. Giveaway ends on July 15th.

Now is your opportunity to help stop this epidemic from spreading!